See on Scoop.it – Korean Wave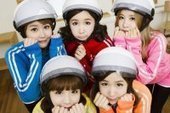 The U.S. morning show "Good Morning America", broadcast a report about the Korean girl group Crayon Pop on Wednesday, under the title "Will Crayon Pop Create a 'Gangnam Style' Sensation?
Crystal "CeeFu" Anderson's insight:
Appearances by K-pop groups like Crayon Pop on American television provide opportunities for exposure to mainstream audiences. At the same time, Crayon Pop is only one kind of K-pop, and as the story links the group's work to the wacky antics of Psy, I wonder if this is the only kind of K-pop that mainstream audiences will accept (or the only kind of K-pop that they will be exposed to). Again, these are images of Asian women that do not challenge the way Americans think of Asian women.
See on www.hancinema.net