See on Scoop.it – Korean Wave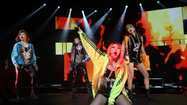 August Brown provides a more positive review of the 2NE1 concert than appraisals of the New Jersey show. He does a good job of parsing his overview, taking care to define Hallyu and tailor his comments in terms of 2NE1's potential success for the American mainstream.
However, like many commentators with little direct knowledge of Kpop as a culture, he makes generalizations, forgetting that the music is part of K-pop. For those who are K-pop fans, K-pop typcially involves the music, videos, variety shows, photo shoot and endorsements, and sometimes Kdramas.
2NE1, and in fact, several artists of YG Entertainment diverge from this pattern in K-pop (Osy notwithstanding). Recently, YG apologized for not letting 2NE1 on Korean talk shows because they said the girls didn't have the personality for it. At the same time, however, 2NE1 did have their own behind the scenes show. It's clear that YG wants its artists to go beyond what some consider to be typical K-pop, but in doing so, it doesn't reap the same kind of loyalty that other groups gain.
So, Brown's overview of the performance reads more like an American concert rather than a K-pop one. This has its advantages and disadvantages. it's probably good for YG looking to make the coveted splash in the American mainstream. However, it subjects YG artists to the same kind of generaliations that some say drive them to other modes of music outside of the American mainstream.
See on www.latimes.com